Connecting Open-Source and Crypto Ecosystems
The success of early cryptocurrencies shows that a network of economic participants, when given the right incentives, can fuel improvements of open-source software and protocols and spawn supporting ecosystems.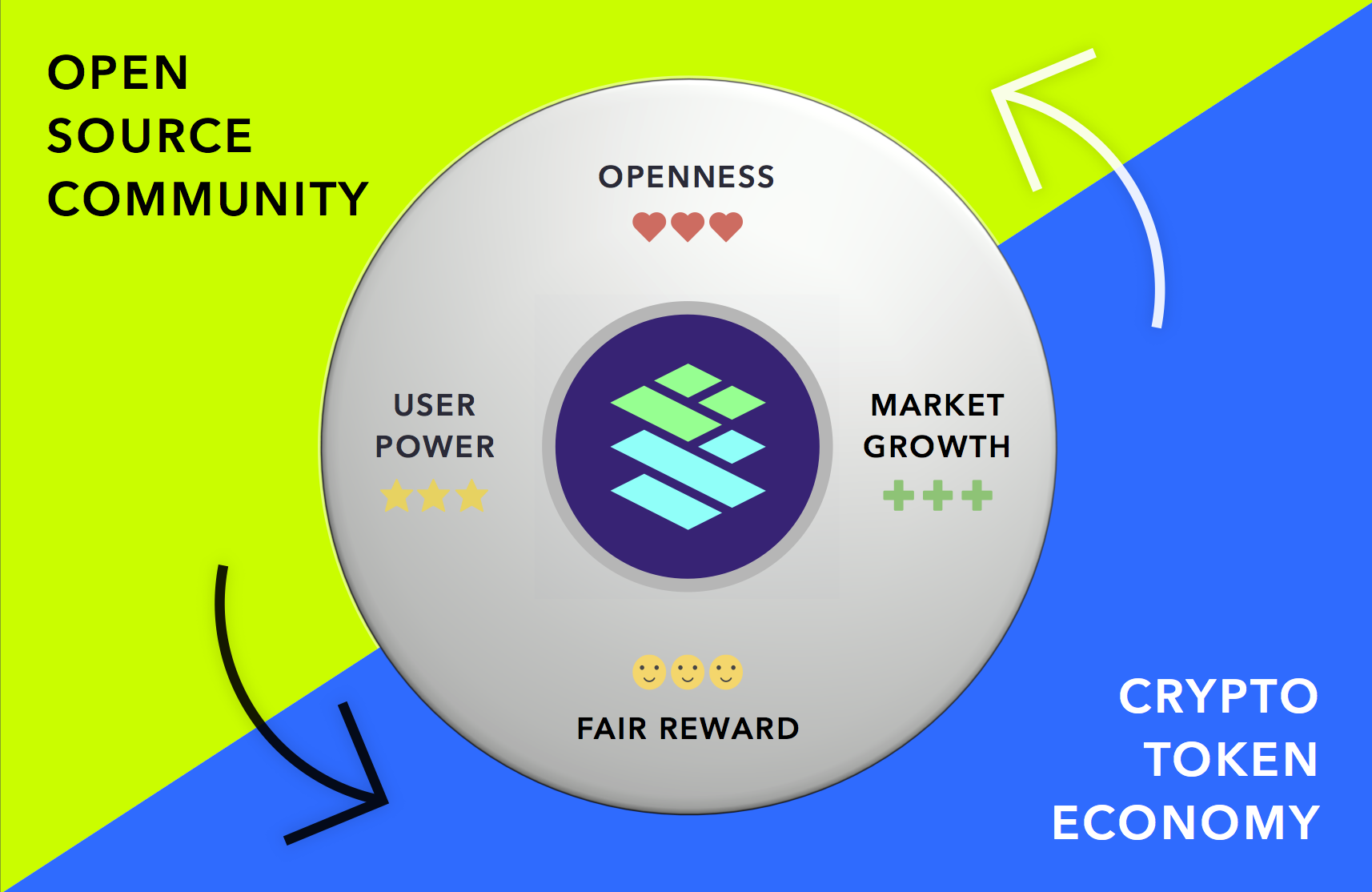 Building Up Speed With the Flywheel
The evolution of the software ecosystem behind Bitcoin and Ethereum shows that open-sourced software development can be fueled by a growing token-backed economy, where any person or organization is free to join and participate. As the overall network value grows — which is often measured by metrics like CoinMarketCap — there is an ever-growing incentive for new developers to build upon this codebase or architecture, and then deploy the new innovation as a piece connected to the existing network, instead of starting a new network from scratch in a lonely corner. Each "if you can't beat them, join them"-decision made by an independent participant adds momentum to the "flywheel", a term coined by Jim Collins in the book Good to Great. Decentralized organizations rely on a gradual build-up of speed when it comes to the flywheel effect, aiming to gain sustainable momentum, to compete with incumbents and challengers alike.
Looking beyond the specialized software for cryptocurrency mining and trading, is there a way for this flywheel effect at the fulcrum of open source and crypto to extend to other application areas — so that decentralized software, architecture, and protocols can start competing directly with the services offered by ad-supported platforms and proprietary cloud services? Deep network effects are the only way to fight entrenched networks. Open source and crypto have these effects.
To connect open-source software with the crypto token economy, we have to solve two problems that have thus far prevented mainstream adoption of either. For open source, we need to acknowledge that the current philanthropic orientation, whether through corporate sponsorships or Patreon supporters, severely devalues the code upon which a firm builds its business. For crypto, we need to start obsessing about the humans behind the addresses — their needs, their journeys, and their experiences — as much as about the consensus algorithms. In this section, we delve into our proposal on how to fund open source while creating wealth for all who make the flywheel turn.